EMERGENT TECHNOLOGY WORK GROUP - ED TECH REVIEWS
Making Science Accessible through XR Labs
by Sascha McKeon, Ph.D.
Blue Mountain Community College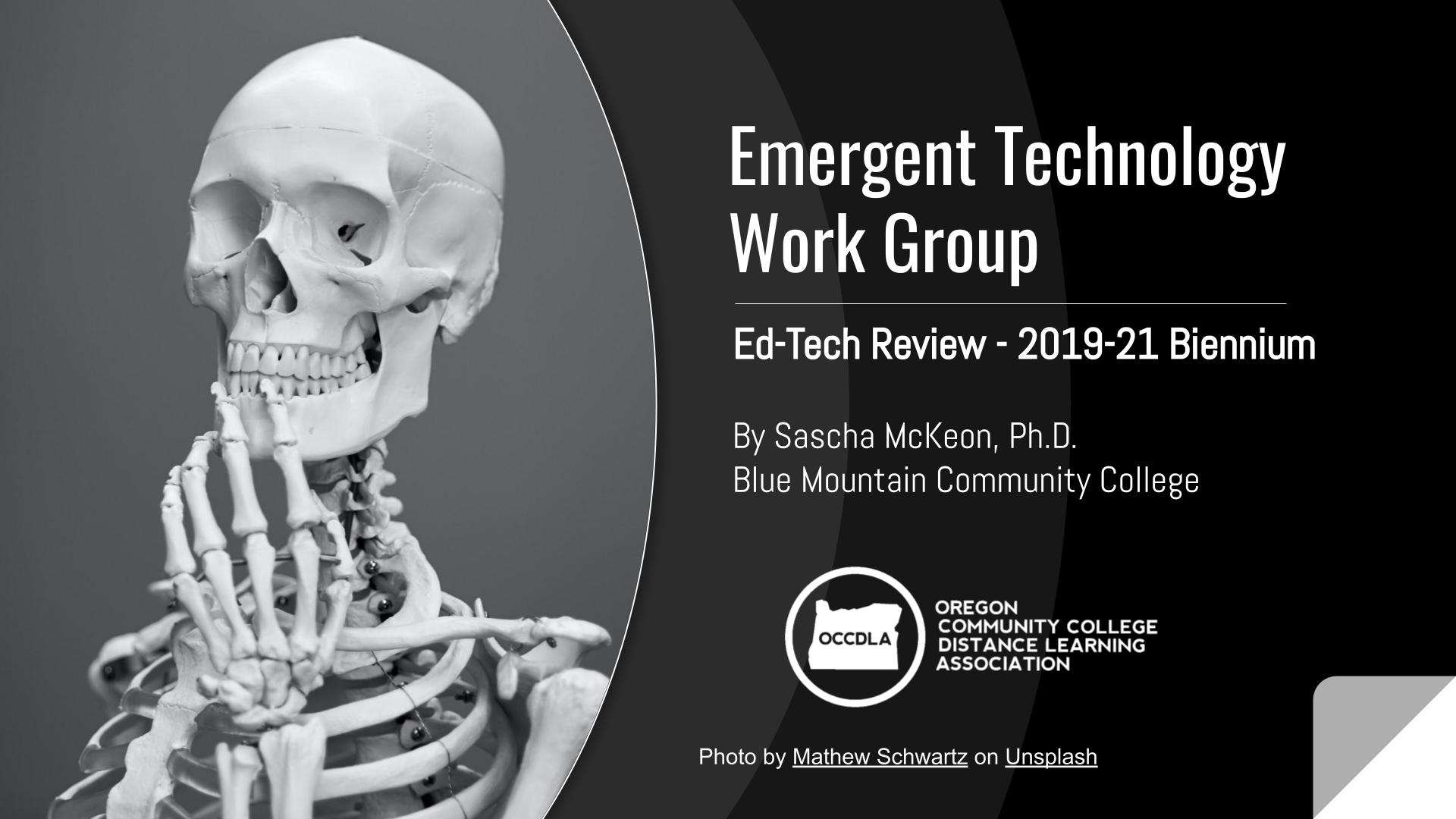 Exploration Intent
With the cost and maintenance of cadavers on the ride (~$3000/year) and our wet lab capabilities at an eight person capacity, our ability to provide students with the robust experience of gross anatomy has been limited. The primary purpose of this grant was to obtain technology that would enable us to augment the current anatomy and physiology lab (which seats 24) so that more students could benefit from enhanced instruction.
Other schools have been using VR to provide educational experiences that bring the content to life, such as touring the deep waters of the ocean. Feedback regarding supplementing coursework with passive virtual encounters has been favorable with increases in student engagement and retention. These experiences are independent, with a single user experiencing the app, and everyone else watching. To date, no study has explored the use of VR in a group dynamic, not as a supplement, but as the predominant curriculum. Students would be able to rotate through dynamic prelates in VR, the actual cadaver lab, and traditional anatomy inquiry for a well rounded curriculum. As VR will enable manipulation at the cellular level, the cadaver at a macroscopic scale, and traditional labs will provide detail in connecting form and function.
This grant seeks to answer the following objectives: 1) What is the optimum number for student learning with VR, and 2) How does student performance compare to the traditional lab experience?
As we are piloting the use of the quest in the Anatomy & Physiology sequence, the principle app that will be utilized is Human Anatomy VR, which is an Oculus Rift app that is already compatible and available in Quest for $20 per license. The BMCC biology department will cover this cost, the price of sanitary liners, and course development by faculty to create inquiry based labs that align with the Human Anatomy VR content.
There are other quest specific apps that overlap content in the general biology sequence, which are listed below.
Quest specific apps:
Wanderer
Mission ISS
Ocean Rift
Apollo 11
Nature Treks
Quest compatible:
Our solar system
Solar system
Wonders of the world
Their presence makes the VR hardware accessible to other instructors, and a greater pool of students. Oculus has gone on record saying they are focused on making the Quest the premiere VR headset. Initiatives are already underway to make more Go and Rift content accessible with the quest and this number is expected to increase annually. In the meantime, the highly rated Human Anatomy VR will be suffice to in serving the Anatomy and Physiology students, on multiple campuses (Pendleton & Hermiston at this time) and fulfill the objectives of this grant.
Reflection and Fulfillment Report 2021
December 2019, I was awarded an emergent technology grant to obtain 5 Oculus Quest systems and bring virtual reality to the BMCC classroom. The primary goal for this technology was to leverage some of the virtual body programs to offset the cost and logistical issues surrounding our cadaver lab. Though I do not teach Anatomy and Physiology, as I was the foremost expert on virtual reality, I submitted the proposal and planned to create a short inquiry based lab to pilot in the Spring of 2020.
Notes on Blindness Experience
The first sample assignment was designed for the BI112 class to pilot, although it would fit in with an Anatomy and Physiology class or BI103/212 biology class as it focuses on the information gathering ability of various senses. Students are first tasked to listen to an audio recording from the VR experience, and gather clues about where they are and what is happening around them. The table group would discuss together and attempt to sketch the scene according to auditory cues alone. Then one person will experience the 6 mins visual app "Notes on blindness" which showcases a muted scene, with incremental highlights that correspond to sound. This individual will then try to convey their new information to their team in an attempt to remedy their original assessment of the scene for better accuracy.
Figure 1: Screenshot of the "Notes on Blindness" experience. Objects that are glowing are currently making sound and observable to the viewer, while objects that are silent remain in darkness.
The entire group will then be able to watch the video experience (not in VR) and assess the limitations of their auditory information gathering, and evaluate their final scene for accuracy.  The assignment comes with a short protocol that can be attached to any traditional lab associated with this content and student report sheet.  There are additional episodes and experiences tied to this VR App, so content can be scaled.
Figure 2: Comparison of before and after scenes sketched by my family during lockdown to model the student experience. Top Left- auditory interpretation alone; Top Right – After visual experience; Bottom center – An amended first image that was only enhanced with additional information from the visual experience.
Kenyan Savannah Experience
The second sample assignment was designed for the BI102/213 class as it focuses on biomes and diverse wildlife.  In this assignment, the entire table group experiences the Virtual Reality assignment "Ecosphere " together, selecting a short 6 min video episode "The Kenyan Savannah".  As the experience plays out, students are toured through the African plains, and will reflect on their observations about habitat structure, challenges, and wildlife adaptation. The assignment comes with a short protocol that can be attached to any traditional lab associated with this content and student report sheet.  This app has 3 biomes to explore, so there are expansion opportunities to compare the grasslands to the rainforest, and marine habitats.
Figure 3: Screenshot from the Ecosphere "Kenyan Savannah" experience. Note the lack of water and shade. Wildlife in this region will likely be migratory to survive frequent droughts and barren landscapes.
Since receiving the grant, there have been several notable obstacles to implementing this new technology in the classroom.  Once the COVID pandemic hit in March of 2020 classes moved online and became a barrier to provide students a safe setting in which students would have access to the technology.  My premade assignments will likely serve as models for other instructors to create their own assignments.  But during the campus closure, we have had no face to face interactions in which to demonstrate this technology.  However, the biggest challenge has been that the virtual reality apps that were documented as compatible and fast listed for migration to Quest from the Rift and GO systems have not occurred yet.  We are still awaiting the Version 9 software update.  This means that anticipated programs such as Body VR, Organon Anatomy, Human Anatomy VR, and Genetics Lab, are still being cross platform converted. While this is presently disappointing and affects the application of Virtual Reality in the Anatomy and Physiology sequence at this time, we remain hopeful that this software update will occur before the start of Fall term.  In any case, it does present an opportunity for further grants to develop appropriate learning tools that fill this niche.  In the meantime, BMCC is excited to use the VR technology in the biology sequences described above, as the Quest is the most robust tool for implementation and continues to showcase the largest variety of educational apps that can be used in the classroom as standalone or integrated exercises for student engagement.
Questions and comments for follow up can be directed to smckeon@bluecc.edu
TECHNOLOGY EXPLORATION
Do you have an emergent technology you would like to explore?  Submit your nomination for a technology evaluation by the OCCDLA Emergent Technology Workgroup.
The OCCDLA Emergent Tech Work Group receives nominations for instructional technology review from work group members and our nomination form, available to all instructors and administrative staff of all Oregon Community Colleges.
Questions?
For questions about the Emergent Technology Work Group:
Administrative Contact:
Monica Marlo
Portland Community College
monica.martinezgallagher@pcc.edu