EMERGENT TECHNOLOGY WORK GROUP - ED TECH REVIEWS
Try Immersive Media!
by Monica Marlo
Immedgineer
Portland Community College
July 1st, 2019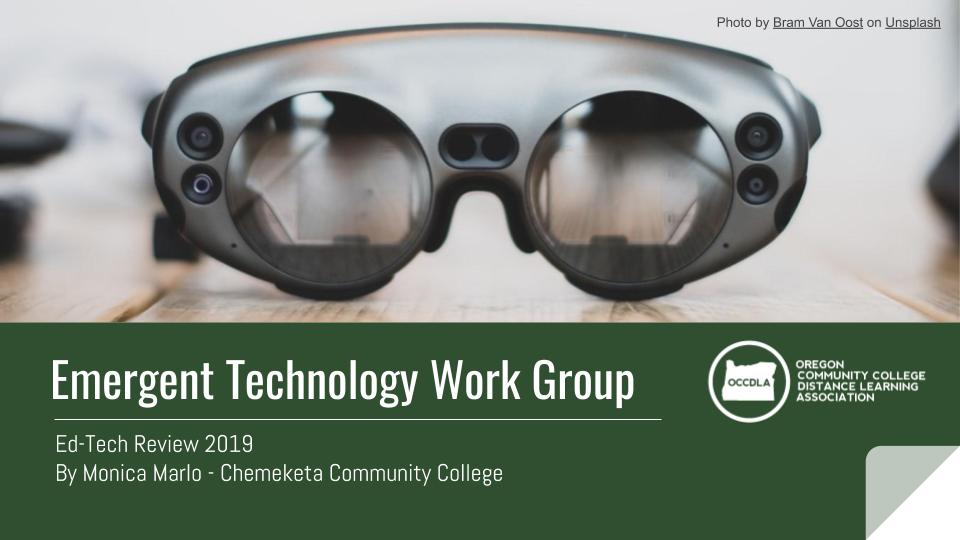 What I did
Try Immersive Media has multiple meanings. First, gearing up for me to be able to try these technologies hands on as they come on board. It also meant using this gear to help other faculty try immersive media. This exploration grant prepared me for exploring what is currently available in the commercial off the shelf environment for immersive media through a curriculum supply lens, as well as exploring what we may be capable of producing at different levels of capability and engagement from community college faculty and support teams. Finding others who are exploring and developing academic Extended Reality (XR) programs at the community college level was also an important and actualized goal. Through all of this exploring I kept in the forefront our multiple equity and inclusion lenses and am always searching for solutions to instructional problems from a student centric perspective.
What is it?
AR, or Augmented Reality – uses a device and geolocation or visual triggers to show users a digital overlay of information on the physical world.
VR or Virtual Reality – uses a device and 3D rendered environments and spatial sound to fully immerse a user in an alternate environment
MR or Mixed Reality – uses technology to blend our interaction and with and feedback from both physical and virtual objects
XR or Extended Reality is an umbrella term being used to describe the use of these and any emerging immersion technologies.
What equipment did I try as a part of this grant?
Google Cardboard: various solutions: 
Print and self assemble might be the most economical but it was also the least satisfying. Edges were rough though I was careful to hand cut with a clean X-acto blade. Thereʻs only so careful and precise my hand can be, every tiny adjustment means the headset doesnʻt fold together perfect.
Cardboard + smartphone with augmented tours may be the easiest in-road project for most faculty to participate in creating. This media can also be offered as a universally accessible alternative to place based experiences, both as a replacement for those who need an alternative for any reason to a site visit, and also as a tool to assure comprehensive exposure to objectives  and reinforce them from an expertise lens for learners who went to the site.
A myriad of Cardboard versions are available, there are no current minimum standards for lens quality, and many are at a set focal distance
Difficult for those wearing glasses
Google Daydream
Comfortable headset, but the fabric means itʻs difficult to clean between users, and it picks up forehead oils and sweat if you donʻt use a hygiene mask. Too bad the masks impede the immersion experience.
Fits mostly comfortably around glasses
Oculus Rift
Easiest by far of the more advanced VR systems to set up, but completely mediated through your Facebook identity, so thatʻs a privacy challenge.
Same issues with hygiene gear, though it is possible to replace face shields
HTC Vive
Steamʻs high end VR system has an excellent array of entertainment titles blooming, but the constant challenges of firmware updates that are a dice roll of success the thrice time through at best sometimes make it the system I would least recommend for non developer end users. If you are creating mixed reality experiences, the HTCʻs front facing camera is a helpful tool in your kit. Steam developer community is healthy and helpful too.
Oculus Go
Our initial untethered favorite for sharing immersive experiences with avatar and object interactivity co- presence. Portability and ease of use win major points here- this is the gear that is always in my bag for quick demonstrations
Merge Cube
While this equipment was not purchased by the grant, it warrants mentioning here because it was the object that was most responded to of all the gear on the immersive media table.
Squishy marker based AR cube that presents a model that can be physically interacted with
Tactile, users found it one of the easiest things on the Try Immersive Media table to approach and interact with, little additional guidance needed once the cube was sitting in front of the iPad and itʻs model was on display
ViewMaster VR
If you have to share a VR headset, this rugged but bulky headset is easy to clean and best used for very brief immersive experiences, much like the original ViewMaster. Arms rapidly fatigue holding both a smart phone and this headset.
Meta 2 Augmented Reality
Initial exploration of the Meta 2 augmented realiuty headset included augmented reality video overlays and mixed reality object rendering with occlusion present with simple polygons. Exploration has stalled with the sale of the parent company to an undisclosed party, and additional information on the viability of the equipment is uncertain. Further exploration with the Meta 2 should be considered stalled and awaiting company support.
What experiences did I try?
Copresent VR -Chat & Model Sharing
360 Tours
Task Simulations
Immersive Narratives
Games
Art creation
Guided Meditation
What went well?
Discovering the joy of increasing copresence and avatar fidelity of motion with gear and platform improvements
Exploring the market of experience is constantly growing, preparing to connect subject area expertise with what is available commercially off the shelf that may aid and improve instructional solutions
Growing virtual relationships with peers who are also sharing discovery, including helping bloom the NW VR EDU Explorerʻs Group, and other community colleges locally exploring immersive curriculum solutions (CGCC, Clackamas CC)
Receiving direct feedback from learners that they are excited that this inquiry is happening and look forward to future immersive curriculum opportunities
Receiving direct feedback from faculty that they are interested in exploring these technology tools in their curriculum
What did not go well?
Constant equipment problems with advanced systems (firmware updates, for example)
Space is needed for gear and time is needed for setup in temporary spaces, constant moving of gear is hard on the system and leads to more troubleshooting time as things go awry.
There is expense of early adoption seen in two ways – Meta folded and support was dropped,  and Oculus Go replaced by Quest within the same year at double the price but more than double the functionality.  ETWG minimizes this cost by incurring it minimally in our workgroup and then sharing information discovered throughout the state.
Change so rapid and volatile it is still too early to operationalize much beyond pilot use
The hygiene shields required to safely share gear were awkward and got in the way of immersion
Use of these technologies may exacerbate the digital divide, both in access to equipment and required network speeds for many rich experiences (copresence, etc.)
What are the next steps?
Continue to use the equipment to explore platforms and experiences , find pilot opportunities, introduce faculty to these technologies,  apply these solutions where they improve and universally widen meeting instructional needs
Add the Oculus Quest to get in parity with CGCC and move forward with NW XR EDU Explorerʻs Group – immersive copresent spaces, which will continue to share findings through ETWG meetings
Seek status updates on what may be next for Meta 2.
Present a series of hands on demonstrations in immersive media for faculty at PCC through the Teaching and Learning Centers during the 2019-2020 school year
Whatʻs likely next for xR technologies? 
Wider sensory stimulation (scent visors, haptic gear, etc.)
Titles to support specific CC level curriculum beginning to bloom

Wildland fire science at Clackamas is in initial exploration
360 geology tours produced by PCCʻs Video Production Unit and annotated with faculty expertise using ThingLink, which was also initially provided by ETWG grant funds in a prior exploration

Upcoming research in curriculum design and assessment in immersive environments
Ongoing scan of feedback from practitioners and wider society on physical, emotional and social effects of adopting immersive technologies
What informed my work?
Hands on experience with hardware and software
Connections with other practitioners exploring in parallel
A wide base of online content including Industry news sources, conference proceedings, etc.. Particularly useful:

The Verge
Road To VR Newsletter
Twitter search for associated topics and entities
TECHNOLOGY EXPLORATION
The OCCDLA Emergent Tech Work Group receives nominations for instructional technology review from work group members and our nomination form, available to all instructors and administrative staff of all Oregon Community Colleges.
Do you have an emergent technology you would like to explore?  Submit your nomination for a technology evaluation by the OCCDLA Emergent Technology Workgroup.
Questions?
For questions about the Emergent Technology Work Group :
Administrative Contact:
Monica Marlo
Portland Community College, Sylvania Campus, TCB 116
monica.martinezgallagher@pcc.edu