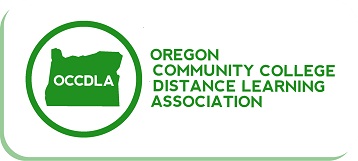 Oregon Community College Distance Learning Association
Net Neutrality Position Statement
The Oregon Community Colleges Distance Learning Association (OCCDLA) is an association of the 17 Oregon Community Colleges. The Association believes in strengthening professional practice and continuous improvement of distance education in Oregon, through facilitation of an open exchange of knowledge and sharing of experiences. Our strategic direction supports student access, preparation, retention, completion and success, through many statewide collaborative activities.
An unfettered Internet is the backbone of Distance Learning programs in Oregon. It enables teachers to engage students with dynamic content and tools like educational videos, web conferencing and more. It also provides access to free and low-cost course materials which have saved Oregon students over a million dollars. The OCCDLA is an active leader in promoting Open Educational Resources, best practices in online teaching, and have given thousands of students access to an education, professional training, and jobs.
The OCCDLA believes that a free and open internet is essential to affordable access to education through Oregon Community Colleges. The end of Net Neutrality puts this access at risk. Educational content cannot compete with commercial content for fast lanes. Our students are challenged by the cost of education, technology, and internet access. Net Neutrality is essential to the mission of Oregon Community Colleges and must be restored.
For more information: