EMERGENT TECHNOLOGY WORK GROUP - ED TECH REVIEWS
Foldscope for Low Visions
2018-19 Grant Funded Project by OCCDLA Emergent Technology Work Group, August 23, 2018
by Supada Amornchat
Study Group Members: 
Cynthia Butler – Student with low vision
Duggan Foster – Student with low vision
Estefania Llaneza Garcia – Online Biology instructor
Melissa Duke – F2F Biology instructor
Phyllis Petteys – Accessibility Specialist, Disability Services
Supada Amornchat – Alternate Media Formats Technician, Online Learning
Project Description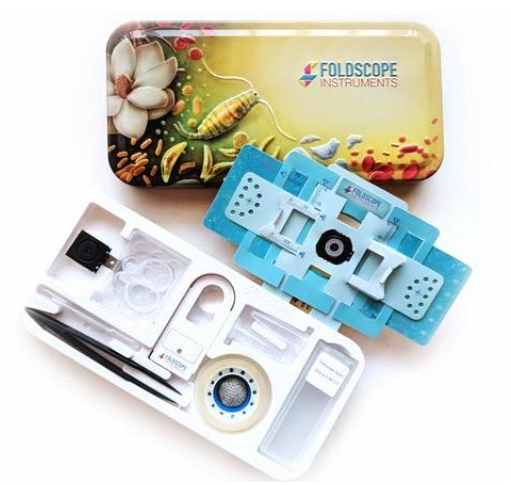 Biology is in high demand program for students, either they take for transferring to other programs or for their major program. One of the skills that Biology students need to have is the ability to see and analyze specimen through microscope. For someone who has low vision, it is very difficult to look through the eyepiece lens and describe the specimen. They need a large monitor or a device that allows them to zoom into the object in a very large scale without looking through the lens.
Other barriers for students with low visions include group projects that require participation in the lab hours, some learning activities such as drawing, filling tubes, measurement, and time limitation.
When we first found out about Foldscope, we were very excited and we thought this could be a good solution. It made of cardboard with 140 times and 2-micron-resolution magnification. It allows learners to attach the magnifier with cellphone and captures in still images or videos. It doesn't require any applications or data subscriptions. It is very compact and lightweight so students can take it to a field trip and be able to exam and explore outdoor natures. The cost of a Foldscope kit is $40 and comes with all the basic biology lab kit, such as tubes, tweezers, pipettes, and glass slides.
PROJECT GOALS:
The goal of this study is to explore an alternative tool to help students with low visions completed biology class activities.
LESSON LEARNED
We all got together in one day in the Biology lab at Rock Creek, one of PCC campuses. Before we started the study, we spent some time discuss about most common barrier in Biology for them.
Most Common Barriers for Students with Low Vision in Biology
Small view: Seeing through the microscope is quite challenge for them.
Solution: A large monitor OR software that allows them to adjust visual display by zooming in at large scale.
Color contrast does matter: When presenting specimens to a large projector, sometimes the visual objects are too bright or colors fade away so it is hard to see.
Solution: Change color contrast or calibrate projector/monitor.
Lab activities: It is quite difficult for them to perform some lab activities, such as measuring, looking through the lens, and drawing.
Solution: Add equal effective assignment/learning activity with the same outcome so students can choose an option, such as using interactive simulation.
Group activities in the lab time: The students dreaded lab activities. They felt like they caused the whole class behind (time limits) and that made them extremely stressful.
Solution: Provide aid in classroom.
STUDY FOUND
The students were assigned to exam specimens from water sample and plants using Foldscope. The instructor provided a couple of assembled Foldscope, water and plants. The students were assigned to place specimen to the slide and examined the result using their mobile device.
As a result, it was quite challenges for the students to use Foldscope complete the assignment for the following reasons:
Requires dexterity
All activities when using Foldscope requires hand skills, such as assembling, insert slide, place specimens, adjust lens, zoom in/out on the camera, etc. With the cardboard paper, the students concerned that they might tear it apart, especially when insert the slide to the paper slot. Another challenge was when they adjusted the Foldscope lens to align with the specimens and the device's camera so they were able to see what's on the microscope.
Usability
One of the issues that the students pointed out was the size of his hands are too big for to insert a slide into the Foldscope and he felt he could tear the paper. He also mentioned the issue with left-hand. Most cellphone and tablet cameras locate on the right side so it was challenging for him.
Zooming in visual view was also difficult because the specimen must be in precise position so they were able to see. Specially, when working with water sample, the ameba kept moving so it is quite challenged to follow it and adjust their view at the same time.
Sticky tape that used to stick magnetic ring to the camera of the device wasn't sticky enough so it kept peeling off.
OPPORTUNITIES FOR ADDITIONAL INVESTIGATION
As a result, Foldscope may not be the right tool for people with low vision. I still encourage people to try. The kit comes with the basic tools that allow learners to access and expand their curiosity in science anywhere at anytime.
The following are videos from study results. The first video shows specimens from my experiments when I visit Thailand. They are from water samples, mosquito and plants. The second video was recorded during the study with the visually impaired students.
TECHNOLOGY EXPLORATION
The OCCDLA Emergent Tech Work Group receives nominations for instructional technology review from work group members and our nomination form, available to all instructors and administrative staff of all Oregon Community Colleges.
Do you have an emergent technology you would like to explore?  Submit your nomination for a technology evaluation by the OCCDLA Emergent Technology Workgroup.
Questions?
For questions about the Emergent Technology Work Group :
Administrative Contact:
Monica Marlo
Portland Community College, Sylvania Campus, TCB 116
monica.martinezgallagher@pcc.edu