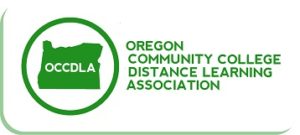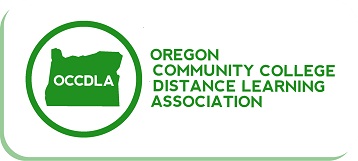 Introduction
In the spring of 2015, the Oregon Community College Distance Learning Association (OCCDLA), voted to increase the budget for Operations and Support, bringing the half-time Operations and Support Administrative Assistant position to full-time and upping the materials and supplies budget to match. This position and corresponding materials and supplies is funded by the Office of Community College and Workforce Development via IGRA 0831. As denoted in the project proposal, this report reflects on the outcomes of the funding as well as the overall OCCDLA budget, statewide savings through consortial licensing, and participation in professional development.
End of Biennium Accomplishments
In the second year of the 2015-2017 biennium, OCCDLA has made gains in all of its strategic initiatives and focus areas.
Statewide Collaboration
Since the mid-biennium report, OCCDLA has hosted a summer retreat and three quarterly meetings, as well as roughly 42 workgroup and subcommittee meetings. Our collaboration at these mostly virtual meetings has centered around our seven strategic initiatives with a focus on student retention and completion, best practices in online learning, online student onboarding, accessibility, learner analytics, and emerging technologies relating to instructional technology.
OCCDLA continued to collaborate statewide in our work with and for our Oregon affinity groups; in particular, the OCCDLA chairpersons attended OCCA, CIA and SSAC meetings. In addition, OCCDLA has aligned with the goals of SSAC in our own meetings and through OCCDLA liaisons to SSAC.  Again this year, as part of our spring quarterly meeting, we conducted a joint session with the Oregon Community College Library Association (OCCLA) at Klamath Community College  focusing on collaborative topics such as open education resources and continuing the Films on Demand consortial license.
Savings Through Consortial Licensing: OCCDLA continues to save money and provide state-of-the-art technology to colleges large and small with consortium pricing. Our estimates for this year's savings are:
Films on Demand: $50,000

AST Captioning: $57,600

Quality Matters: $24,000

Kaltura: $33,850

Blackboard Collaborate: $115,000
Emergent Technology
The Emergent Technology Workgroup (ETWG) reviews new educational technologies and makes recommendations about adoption for our consortium. Their work provides innovative tools, improves access to technology for teaching and learning, and identifies potential cost savings for Oregon community colleges.
In the second half of this biennium ETWG has continued their evaluation of Zoom and Kaltura. Ed-tech reviews and projects during this term included SoftChalk, Samson Go, Kaizena, Learning Glass, and a ThingLink pilot. Docsoft was evaluated in collaboration with the Accessibility Workgroup.
The workgroup has promoted and administered four Faculty Exploration Grants and five Work Group Exploration Grants, which include instructional technology tools. The Emergent Technology Work Group continually strives to foster connections with local organizations involved in industry development, such as their work with Oregon Story Board for the augmented/virtual/mixed reality sector and exploration of HoloLens.
Future workgroup plans in the next biennium include evaluation of technologies relating to accessibility.  Additionally, there is interest in using video to assess learner outcomes and products such as GOREACT, YouSeeU, and PlayPostit.
Professional Development
The Professional Development workgroup focused on both continuing the proven Quality Matters (QM) training, as well adding new professional development options.
New approaches have been used in QM training this year. We offered only a few of the statewide "Applying the QM Rubric" (APPQMR) workshops, collaboratively led by QM certified facilitators within our Oregon system, as our focus switched to offering an independent version of QM's Improving Your Online Course (IYOC). All of these online sessions were successful with completion rates 75% and above. The intensive two-week IYOC workshop gave participants the opportunity to:
Recognize QM's foundational concepts

Use their own online or blended course to apply the essential Standards of the Quality Matters Rubric

Describe the alignment of at least one module/unit in their online course

Prioritize improvements to their online course
QM Data for the last biennium, June 2015 – June 2017:
440 participated in some type of QM training workshop training sessions (grant and institution funded).

There has been growing interest in Quality Matters training with 145 participants during the past 6 months.

35 participated in one of our two state-run APPQMR workshops.

97 participated in our five state-run online IYOC workshops.

14 participated in QM's Peer Reviewer Certification course.

19 QM Recognized courses during this period.

111 certified peer reviewers.

41 participants were funded for the  2016 National QM conference in Portland.

OCCDLA funding helped colleges send additional people to participate.

PCC alone was able to send 56 people.

13 presented at the 2016 National QM conference.
In addition to QM, OCCDLA has promoted other professional development options.  In January 2016, two colleges were recipients of $1000 grants for projects to enhance course quality; Central Oregon CC, and Oregon Coast CC. In 2016-2017, these $1,000 course quality grants were awarded to Chemeketa CC and Umpqua CC.
Numerous OCCDLA members and faculty from around the state attended the 2015 NW eLearn Conference in Olympia, as well as the 2016 conference in Eugene. Attendance at these events was made possible by state funding.
Three emerging leaders from the Oregon system will be participating in the Instructional Technology Council Leadership Academy in Portland this July. In the previous year, two Oregon nominees participated in the Asheville, North Carolina academy.
This past fiscal year, Blackboard Collaborate Ultra representatives conducted webinars for Oregon community college staff and faculty with topics focused on technology resources.  35 participants attended one or more fall webinars, and 19 participants attended spring webinars.
Open Educational Resources
For information on the OER project, the Operations workgroup defers to the corresponding Open Education Resources Librarian Report 2015 – 2017 provided by Amy Hofer, Statewide Open Education Library Services Coordinator.
Accessibility
The Accessibility Focus Area became a workgroup in the second half of this biennium incorporating the captioning and transcription sections within their scope of projects as they are striving to eventually create an entirely accessible online classroom. The membership is open, and features guest representation (during select meetings) from subject matter experts ranging from vendors to professionals at universities, and includes anyone who has an interest in accessibility.
This workgroup focuses on identifying resources for training and advocacy, researching accessibility trends on local and national levels, distributing information to the OCCDLA membership and collaborating with other OCCDLA workgroups on initiatives.
During this term Accessibility has evaluated accessibility tools, solutions, best practices, and emerging technologies, such as Blackboard's 'Ally', and FLOE and worked in collaboration with the Open Education Resources Workgroup and the Emergent Technology Workgroup (ThingLink)  in searching avenues to incorporate open source material (Pressbooks, GitHub)  and meet mandates.
Student Retention and Completion/Analytics
Another workgroup that was formed during the second half of this biennium is the Student Retention and Completion/Analytics Workgroup.  This workgroup is currently focusing on gathering information to guide them in determining consortial need and gauging interest levels among the membership.
Over the next biennium this workgroup will focus on conferencing and networking options focused on strategies, tools and data analytics that have the potential to increase student success.
2017 – 2019 Biennium Expectations
OCCDLA will continue to evolve and grow with the constantly changing technology and needs of distance education.  The group's work will continue to align our strategic initiatives with the HECC, SSAC and OPC. In planning for the next biennium, OCCDLA submitted 12 proposals to the HECC for project funding approval.  To ensure long-term success, we will continue to evaluate our current projects, develop new strategies for student success, and collaborate within our workgroups and statewide affinity groups.